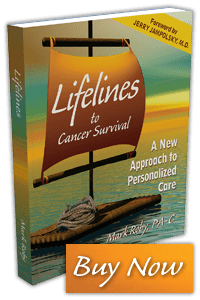 Reimagine Cancer Survival
When someone is hit with cancer, it's what they don't know that can kill them. Lifelines to Cancer Survival is the first book ever that guides patients and their families towards the critical questions that all newly diagnosed cancer patients face, such as: "What do I have to do to stay alive?" "What do I have to know to stay alive?" "What are the actions I have to take right now to stay alive?" "What kind of skill sets do I need to learn to stay alive?" And in the end, it comes down to this critical question:Do I deserve to make my survival priority number one?

Since I was diagnosed with sarcoma in 2002, I have met and interviewed literally hundreds of cancer patients in my role as a physician assistant. What surprises me is that a large percentage of these individuals did not get second or third opinions and further more they did little or no research on their tumors. What they didn't and still don't understand is that the secret to their survival lies within their own specific tumor.
If you've been diagnosed with any cancer, but especially an unusual, advanced, or aggressive cancer, you've got to find answers to these questions. If you can't find them yourself, you must reach out to others to help you answer these questions. The lifelines in this book will guide you to find these answers. Lifelines reveals a multitude of options that cancer patients do not know they have.
Praise for Lifelines for Cancer Survival:
"Helpful, inspiring, informational and educational."
Michael Radner, Board Member, Gilda's Club Worldwide, and brother of Gilda Radner
"The perfect guidebook for anyone feeling overwhelmed by a cancer diagnosis."
Kelly Turner, PhD, New York Times best-selling author of Radical Remission: Surviving Cancer Against All Odds
"If you're looking for someone to inspire you, you've picked the right author to read."

Gerald Jampolsky, MD, Founder, Attitudinal Healing
"Dr. Mark Roby's 'Lifelines' helped save my wife's life and spared her from disfiguring surgery."

Dr. Steve S., Emergency Room Physician, Pennsylvania